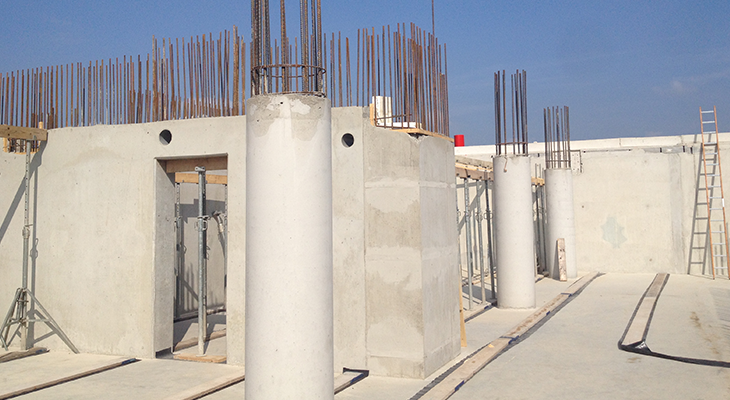 In some cases the health and safety measures during the concrete production process is insufficient. One of the main reasons for this is the use of hazardous chemicals for the production of concrete with no safety precautions when working with concrete.
It is important to improve the working conditions for construction workers in the concrete industry. In this article we would like to highlight how we ensure a healthy and safe working environment
As a concrete producer you want to create a safe working environment for your employees and yourself with safety precautions when working with concrete. Also, improving the working environment correlates to an improved concrete production process. An additional advantage is that your employees are healthy and absenteeism due to sickness will be reduced.


Hazardous Chemicals
We are your problem solver and we value health and safety. One of the main issues in the concrete industry is the use of hazardous chemicals that need safety precautions when working with this in combination with concrete. Exposure to those chemicals occurs when workers have direct contact with an hazardous substance or indirect by air.

When the safety precautions for working with concrete are insufficient and one of your employees has been exposed to the hazardous substance it may have acute or chronic effects.

Hazardous chemicals can be found in reference release agents and can influence the safety of the working environment. Common health consequences that occur after exposure to the dangerous chemicals are as followed:
Irritated or injured skin, eyes or respiratory tract;
Dermatitis – inflammation of the skin by direct contact with the chemicals;
Asthma.
This list is not exhaustive. Individuals might react differently on hazardous chemicals. However, it is important to recognize exposed employees. The best way to protect your employees is to abolish the use of hazardous chemicals and transfer to products that are made from plant-based oils.


How can Ecoratio help creating a safe working environment?
When you have decided to abolish hazardous chemicals during the concrete production, the use of environmentally friendly release agents that are made from plants might help you.
Let us explain why our concrete release agents are the best choice to create a safe working environment:


No hazardous chemicals
Ecoratio managed to develop release agents without harmful chemicals that can cause danger to the user of the products. We focus on natural, vegetable based materials in the production process. This makes the products biodegradable and non-toxic. No extensive safety precautions when working with concrete are needed anymore.
Additives in release agent
We make sure the products produced by our company are free of any solvents. Solvents can affect the health of the construction worker as it can cause irritated skin, nausea and in some cases illness.

Besides, Ecoratio ensures that the products are odor neutral. Products like release agents can have a unfortunate scent that can cause headaches and nausea. Ecoratio's products can be used without any discomfort.


Non-flammable release agents
Ecoratio only uses environmentally friendly products in their emulsions without chemicals, eliminating the chance of accidents caused by ignition.


No greasy work environment
Ecoratio's release agent in combination with an efficient spray system results in the diminution of misting of the oils. The working environment is not affected by atomized release agent and safer to work in.
Besides the certainty that Ecoratio improves the working conditions in the concrete production industry, more motivations can be given to choose for Ecoratio. See our eBook for the motivations to choose Ecoratio as your partner in high quality concrete.