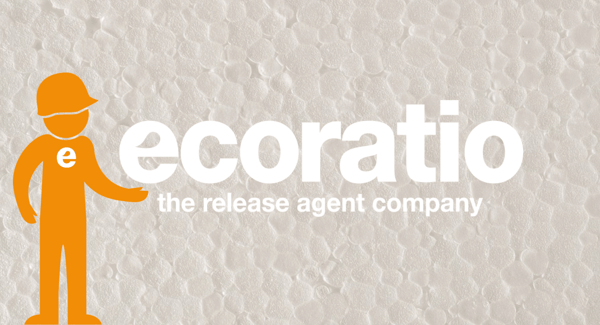 Ecoratio helps you realize details in your concrete elements with the optimal use of polystyrene forms. In addition to release agents for your moulds, Ecoratio offers the solution for adhesive polystyrene that remains on the concrete. In this blog we discuss the use of polystyrene and the benefits of Ecoratio's polystyrene agent for your company!
The use of polystyrene during concrete production
Polystyrene is used during concrete production to create shapes in the concrete element. Polystyrene is easy to process and forms can be tailormade, which makes different shapes and geometries in the concrete element possible. This is in contrast to wood, which is harder to shape and to which concrete sticks easily.
The polystyrene has no direct influence on the quality of the concrete surface. However, when the polystyrene is of poor quality it can break, with the result that the entire concrete element is covered with polystyrene granules. This has a negative influence on the production process in means of the extra cleaning time.
How to use polystyrene?
Use high quality polystyrene products in combination with a high quality release agent to prevent the polystyrene forms from breaking and leaving granules on your concrete element. In addition to saving you a lot of time when it comes to cleaning, the polystyrene can be reused, which is cheaper and more durable.
How Ecoratio can help with the use of polystyrene
A good and effective release agent is important to remove the polystyrene form from the concrete element. Ecoratio competes here with different products, but differentiates itself in several points compared to the competition.
The competitive products have the advantage that the purchase costs are lower. This is due to the product base of petroleum. However, additional disadvantages are that the petroleum based products are flammable and contain warning labels.
Usability
Due to the composition of Ecoratio's product for polystyrene, the agent is thinner than other agents and therefore easier to apply. In addition, unlike competing products, Ecoratio's polystyrene agent is easy to apply due to the striking green color. This makes the application optimal, so that no damage occurs during the release process of the polystyrene.
Better results
Through years of research, Ecoratio is an expert in the field of release agents and related products.
The release of polystyrene forms from concrete elements is therefore also a success.
The polystyrene remains intact and leaves no residual particles.
Safe for people and planet
All of Ecoratio's product portfolio consists of environmentally friendly products that do not pose a risk to people and the environment. The release product you use for polystyrene forms is also made from natural, plant-based materials without harmful solvents that affect the environment or the working environment.
With Ecoratio's products you experience a lot of convenience and you save time and additional costs. Do you want to experience yourself what benefits Ecoratio can offer you? Download our eBook Products and Services to get an overview of the possibilities.